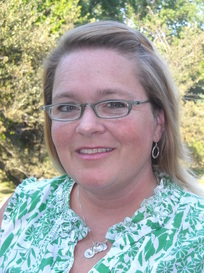 About the Author: I've spent years reading, writing, and story-telling. I'm a middle school librarian and a busy mother with two sons and one daughter. I am married to my high school sweetheart and live in Kentucky. I spent fourteen years teaching middle school math, science, and language arts. A passion for books and reading prompted my return to graduate school to pursue a degree in Library Science. I spend my days surrounded by books and the students who want to read them. My best day is when a student tells me how much he or she enjoyed a book. Connecting books to young readers is a dream job. Writing stories for teens is a continuation of that journey.
I used to spend a lot of nights hunched over my laptop at a tiny folding table in the corner of our dining room. When my family goes to bed I dive into my imagination to create characters and situations. This is really the only free time I have for writing. I love to start new stories, but I don't always finish them. Sometimes new ideas seem more fun and interesting...I am working on seeing my projects through to the end. Recently, one of my friends helped me to reconfigure the furniture in our front room to make space for a writing desk. Now I have an area that is really my own and doesn't have to be cleared out or straightened up before friends come over.
I like to spend time laughing with my friends, family, and being creative. One of my favorite projects was the creation of my YouTube channel, TheWMSLibrarian. (I had a lot of help from my students, they are very inspiring!) Visitors to my channel can view book talks geared toward a middle school audience. I also LOVE to work with student writers. While we do a lot of writing in school I find it to be very rigid. There isn't a lot of room for the creative writer to spread his or her wings. Student writers are rarely given the time and freedom to really explore their writing talent. I've been leading a group of student writers for several years now. Last year I had the opportunity to teach an eight week creative writing class. It was awesome!
If you stop by my house, you would most likely find me working the kitchen as a short-order cook, feeding a posse of hungry and thirsty kids. Please let me know you're coming so I can run around and pick all the stuff up off the floor and throw it into the laundry room. You can take a seat at my table and I'll serve you up some ice tea or Diet Coke and we can chat for a bit.
Contact me!
email: chelliegaither@aol.com
author@chelliegaither.com
Watch me make a fool of myself and see my love of books!
YouTube: TheWMSLibrarian
---