Published 2012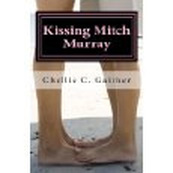 "Kissing Mitch Murray is a really good book to read if you are a young girl who likes romantic books with some adventure! The main character, Christina Hardesty, is dealing with some typical teenage issues like boys and clothes, but also some pretty serious ones, like her dad being away in the Navy and a mom who she only knows through Facebook! I really enjoyed the way that the author told the story of what happend to her mom at the same time she was beginning a romance with her dream guy, Mitch Murray! There are also some really sweet scenes between Christina when she meets and gets to spend some time with Mitch's granny! This book was a really good romance for girls who like boys that are kind, considerate, good kissers and, as the novel says, very charming!"

---
Kissing Mitch Murray
This is a story of teenage love. Join Christina as she plans an adventure for her last days of summer. With her father in Afghanistan and a mother who left years ago, she needs a distraction from her worries. When the super hot Mitch Murray, an older boy she's known for years, asks her out on a date her summer adventure becomes a sweet romance. A last minute road trip not only brings her and Mitch closer together but it helps Christina realize how much she worries about her father and how she really feels about her missing mother.



The First Kiss
"I like your braids Christina." He tugged the rubber band off and started pulling the braid apart. I pulled the band off the other braid and started to pull it apart also. He used his fingers to fluff the ends of my hair out. We sat that way for a while. I couldn't hear any sounds coming from the boy tent anymore. Hopefully, they had all finally gone to sleep. I saw Mitch check his watch. It had to be getting close to midnight.
"Christina, walk me to the gate in your fence." He stood up and reached down for my hand. He pulled me up off the ground and we walked to the gate holding hands. The side yard was in complete darkness.
He leaned down and whispered into my ear. "This was a great day."
"I thought it was a great day too." I whispered back.
"Would you be interested in doing something together tomorrow?" He quietly asked.
I told him that I'd like that and I reached up and opened the latch on the gate. I looked up at him and he put his hands on both sides of my face. I felt his lips on mine. First we just pushed them together then I felt his lips come apart slightly. I pulled my head back and a nervous giggle escaped. He stepped back but let his hands move down to my waist.
He leaned in again and I felt his forehead against mine. "I'm already looking forward to seeing you tomorrow Christina Hardesty."